Current Scholarship Recipients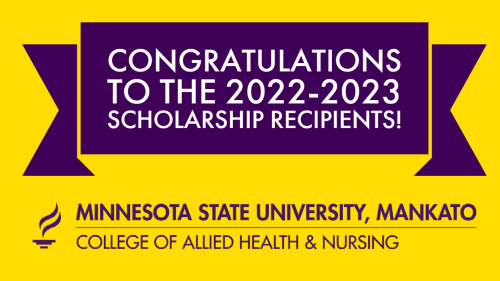 Thanks to our generous donors, more than 140 students in the College of Allied Health and Nursing have received $290,000 in financial support for the 2022-2023 academic year. We are so grateful to those who help make education more affordable for so many of our dedicated students!
Get details on applying for scholarships
Congratulations to our current scholarship recipients:
College-Wide Scholarships
College of Allied Health and Nursing Scholarship
Kirsten Artz, Natasha Friedges, Emma Fury, Laura Gebur, Alaina Lofgren, Kamilya Seid, Olivia Smith, Ashlin Young
Don and Martha Huron Hope Scholarship
Krista Gadient
Dental Hygiene Scholarships
Alice K. Weed Dental Hygiene Scholarship
Emily Schimnich
Minnesota State University, Mankato Alumni Foundation Scholarship
Michaella Johnson, Esther Keith-Reyes, Miah Larson, Emily Schimnic
Dr. Deborah O'Keefe Strand Endowment
Brooke Engbarth
Dr. Robert Fonda Dental Hygiene Scholarship
Natalie Kinkel, Miah Larson, Rachael Wenisch
Dr. Wiliam & Nell Dobbs Dental Hygiene Scholarship
Rachael Wenisch
Family Consumer Science Scholarships
Family Consumer Science (FCS) Education Scholarship
The FCS Education Scholarship was created to recognize one FCS Education student at Minnesota State University, Mankato who demonstrates high levels of responsibility, leadership, motivation, communication skills, ability to work with others, potential for professional growth, and excellence in many facets of student life including academics and extracurricular activities relative to the field of FACS Education. This scholarship is funded by the annual proceeds of the "FACS to the Max" Conference held in the Department of Family Consumer Science at Minnesota State University, Mankato. Supporters of this conference are FCS professionals, alumni, students and faculty.
Family Consumer Science Department Endowed Scholarship
Julia Prouty, Mikaela Whiteford
Fern Snure Williams and Howard Williams Endowment
Haley Forret
Lydia Gens Keitzer Endowment
Susan Simonis
Grace Keir Family Consumer Science Scholarship
Savannah Dorris, Haley Sennes
Mary Jean Metag Scholarship Endowment
Nisa Ruiz, Mackenzie Schimel
Robert and Marcy Irby Scholarship
Marcy lrby is a 1970 graduate of Mankato State College. After a year at Bemidji State College, she went on to complete a degree in Home Economics Education with a speech minor. Seeking to further her education, she attended Kansas State University to earn a M. S. in Home Economics in 1976. Ten years later, Marcy returned to Mankato State College to earn an Elementary Education degree. After 36 years in education, ranging from preschool to high school, Marcy retired from teaching in 2010. Marcy and her husband Robert met at Mankato State College and were married in Mankato on July 17, 1971. It is her pleasure to provide a scholarship for an FCS student interested in teaching.
Callie Cleaveland
Family Consumer Science Department Scholarship
Laura Bolin, Olivia Spande, McKenzie Wallerus, Deanna Wilson
Nickel Family Consumer Science Education Scholarship
Destiny Dahl
FACS to the Max FCS Education Scholarship

Madeline Duffield
Health Science Scholarships
Eta Sigma Gamma Endowment
Nudrat Nawar
John & Delores Pfau Alcohold And Drug Studies Program Endowed Scholarship
Madilyn Krentz
Human Performance Scholarships
Clem W. Thompson Physical Education Endowment
Erika Anderson
Colonel Emma E. Vogel Endowment
Elyse Hayes
Dennis Erie Sport Management Scholarship
Jessica Bode
The Dr. Mardy Buck Developmental Adaptive Physical Education (DAPE) Endowment
Coming soon!
G.L. "Gordy" Graham Athletic Training Endowment
Shannon Motzko, Kim Scott
Vi Holbrook Endowment PE Graduate Scholarship
Mitzi Guizar Cardenas
Human Performance Scholarship
Justine Schultz
Recreation, Parks & Leisure Services Scholarships
Recreation, Parks and Leisure Services Diversity and Inclusion Scholarship
Kevin Martinez Del Arca
C. Esco Obermann Tuition Scholarship
Staci Nohl
Dr. Joanne Ardolf Decker Scholarship
Samuel Ure
RPLS Emerging Leader Scholarship

Cammi Nordmeyer
Speech, Hearing & Rehabilitation Services Scholarships
JW Chiou Memorial Scholarship
The JW Chiou Memorial Scholarship was established by his family to support students who are admitted to Communication Sciences and Disorders (CSD) Graduate Program at Minnesota State University, Mankato. The scholarship is offered to a new graduate student in recognition of the student's academic and clinical excellence and community service. All new graduate students who are admitted to the CSD program are eligible to apply for this scholarship. This scholarship is dedicated to honor Dr. JW Chiou who was a university scholar and expert in the field of Education for more than 40 years in Taiwan.
Benjamin Rubenstein
Mabel Hazel Swanson Scholarship
Sarah Ritz
Pennington Communication Sciences and Disorders Scholarship
Ashlin Young
Communication Sciences and Disorders (MS) Rural MN Scholarship
Benenon Pererva, LynnAnne Vesper
School of Nursing Scholarships
Brett Anderson Nursing Leadership Scholarship
Brett Anderson is a 2011 graduate of the School of Nursing from Minnesota State University, Mankato. Brett now leads Ecumen-wide health care services as the Vice President of Nursing Services for Ecumen. He also served as adjunct faculty at Minnesota State University and an Instructor at Saint Paul College. He has a Master's of Science degree in Nursing Leadership and Management from Metro State University. As a Registered Nurse, certified Public Health Nurse, and board-certified Nurse Executive, Brett wanted to give back to students who show an interest in senior care and health care leadership.
Hailey Johnson, Taylor Snelling
Clarice Joan Amundson Nursing Endowment
Emma Fury, Emma Gregor, Sushma Thapa
David Schober Memorial Nursing Scholarship
Joshua Marben
Dr. Walter & Lorna E. Zettler Memorial Endowed Scholarship Endowment
Josie Fredericksen
Elsa Johansen Natvig Endowment
Shelby Gately
Family Nurse Pratitioner Student Scholarship (CVS Health Foundation)
Kristen Medhanie, Urji Hussein, Bedriyo Yassin
Florence Nightingale Scholarship of the Mankato Area Foundation
The Florence Nightingale Scholarship of the Mankato Area Foundation is to support a non-traditional student for a two-year, post-secondary scholarship who has been accepted into the nursing program at Minnesota State University, Mankato.
Grace Haugh, Alysha VanFleet
Gertrude Jane Timmerman O'Neill School of Nursing Endowment
Claire Hatanpa, Victoria Nwogo
Golden Jubilee Scholarship Endowment
Ella DeFever
Helen C. & Helmer J. Nilson Memorial Endowment
Christabel Aluko, Piper Gare
Jean Marie Berquist Scholarship
Madison Halluska
Kenneth W. Case Nursing Scholarship
Kenneth W. Case was a working man who had an innate ability to build and fix almost anything, using this skill to help anyone in need. Kenneth had a gentle heart, believed in kindness, loved a good football game, and is known for his love of history and world events. When unexpectedly diagnosed with Stage IV liver cancer, Kenneth and his family turned to hospice caregivers to find comfort and support on Kenneth's final journey. To extend Kenneth's legacy of kindness to others, his daughter, Dr. Marilyn Swan, and the Case family, established the Kenneth W. Case Nursing Scholarship to support pre-licensure nursing students with a practice interest in end-of-life care through a hospice or long-term care.
Lindsey Schobert
Lillian Crawford Endowment
Hailey Johnson
LuVern and Bess Penn Endowment
Grace Haugh, Isabelle Hillestad, Mallory Steinmetz, Alexis Wohlers
Lynn Wetherbee and William C. Weese MD Nursing Scholarship Fund
Brianne Pete, Abbey Stohs, Titan Zuehlke
May and John Gilles Nursing Scholarship Endowment

May and John Gilles valued higher education, and each of them led lives of service to others. May was trained as an R.N. at St. Alexius School of Nursing in Bismark, N.D., through the U.S. Cadet Nurse Corps, a program created to address the shortage of nurses in World War II. May practiced nursing for 20 years, serving hospitals in Detroit and Minneapolis. Following the family's move to Mankato, May volunteered for the American Red Cross and worked as a private nurse. In addition, May was a dedicated volunteer in the Mankato community. John served in the Army Air Corps during World War II and afterward spent his career with the U.S. Postal Service, serving as leader in his local postal workers union and a volunteer in his church and community. In retirement, John served as president of the Mankato chapter of National Association of Retired Federal Employees, treasurer of the South Central Senior Federation, and as a tax preparer at Summit Senior Center. He and May delivered Meals on Wheels for 22 years. May and Johns' daughter, Jane Gilles, a Minnesota State University, Mankato alum, established this endowment to honor her parents' memory and to extend their legacy of service to others.

Chrissy Bienhoff
Nicholas Allen Memorial School of Nursing Scholarship
Logan Howe, Sarah Minter
Mayo Clinic Health System Nursing Scholarship
Gracie Adams, Christabel Aluko, Elizabeth Andersen, Riauna Bishop, Doyin Cole, Madison Hawk, Kaitlin Johnson, Thomas Likassa, Megan Marsh, Gabrielle Matthieu, Krista Gadient, Jeana Graf, Emma Gregor, Amy Grilz, Savanna Sabby, Hanna Sack, Emily Schaap, Cassie Sorensen, Shadrach Stryker, Shouayi Yang
Melba Leichsenring Nursing Endowment
Grace Haugh
Dr. Brenda K. Lenz Nursing Scholarship
Natalie Berg
Melissa Peterson Memorial Nursing Scholarship
Janaya Severson
Nancy Schaffler Henry Endowed Scholarship
Krista Gadient
Bill and Lou Schroeder Scholarship
Ahmed Mohamed
Patrick Willette Memorial Nursing Scholarship Endowment
Isabelle Hillestad
Robert, Jean, Linus & Michael Schramski Endowment
Emma Fury
Wanda-Mae Wyndle Nursing Endowment
Lexi Fosburgh, Madalyn Kinneberg, Hannah Marshall, Kamilya Seid
Becky Taylor Fellowships
Doctor of Nursing Practice (DNP) students can apply for Becky Taylor Fellowships through the Glen Taylor Nursing Institute for Family and Society. This fellowship supports education, practice, and translational research focused on improving family and societal health. Funding can be used for tuition, fees, DNP clinical practice projects, and/or cost of living expenses. Fellowships will be awarded based on available resources and application materials.
Coming soon!
Dr. Donald and Marjorie Meredith Nursing Scholarship
Kiersten Kruger
Dr. Carol S. Brown Nursing Endowment
James Kwabena Abotsi
Hope Nursing Research Scholarship
Abigail Simek
Patricia Earle Art Caring Award
Elizabeth Holm
Helen Wiegel Nursing Scholarship

Asmaa Hassan
Social Work Scholarships
Learn more about Social Work Scholarships
Social Work Alumni & Faculty Scholarship
Hajar Abdullahi, Khadra Geelle, Gabrielle Heille, Heather Medrow, Imani Tendle, Wendy Tougas
Bill Anderson Leadership Scholarship
Michaela Bruder, Farhiya Dini, Mary Speer, Bla Yang
Minnesota Social Service Association (MSSA) - Region IX Scholarship
Leah Larson, Karmy Luker, Allysa Nelson, Jessica Schisel
Wayne and Carol Sandee Social Work Scholarship
Jada Witherspoon