A reason to give: Grace Keir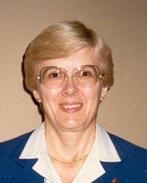 "I taught 18 wonderful years in the Family Consumer Science (FCS) Department (formerly Home Economics) at Minnesota State University, Mankato. The students were dedicated to learning in their respective majors and I enjoyed getting to know them through advising, clubs and on field trips. During my time, I also learned from the experiences I had serving on University committees and from the leadership role when I was department chair.
As a lifelong learner, I remember the many years I studied for my advanced degrees and know that it required not only time, but also the financial means to get it done. For this reason, I want to assist FCS students through my financial contributions for scholarships. I especially want to help future FCS educators so that they will have the expertise to teach the diversity of students they will find in and out of the classroom.
I continue to stay connected with the FCS Department and am proud of the high-quality faculty who are educating students who will be the future in our challenging world."
- Grace Keir, Ph.D, Professor Emeritus