Exercise science lab improves research and honors an advocate for women athletes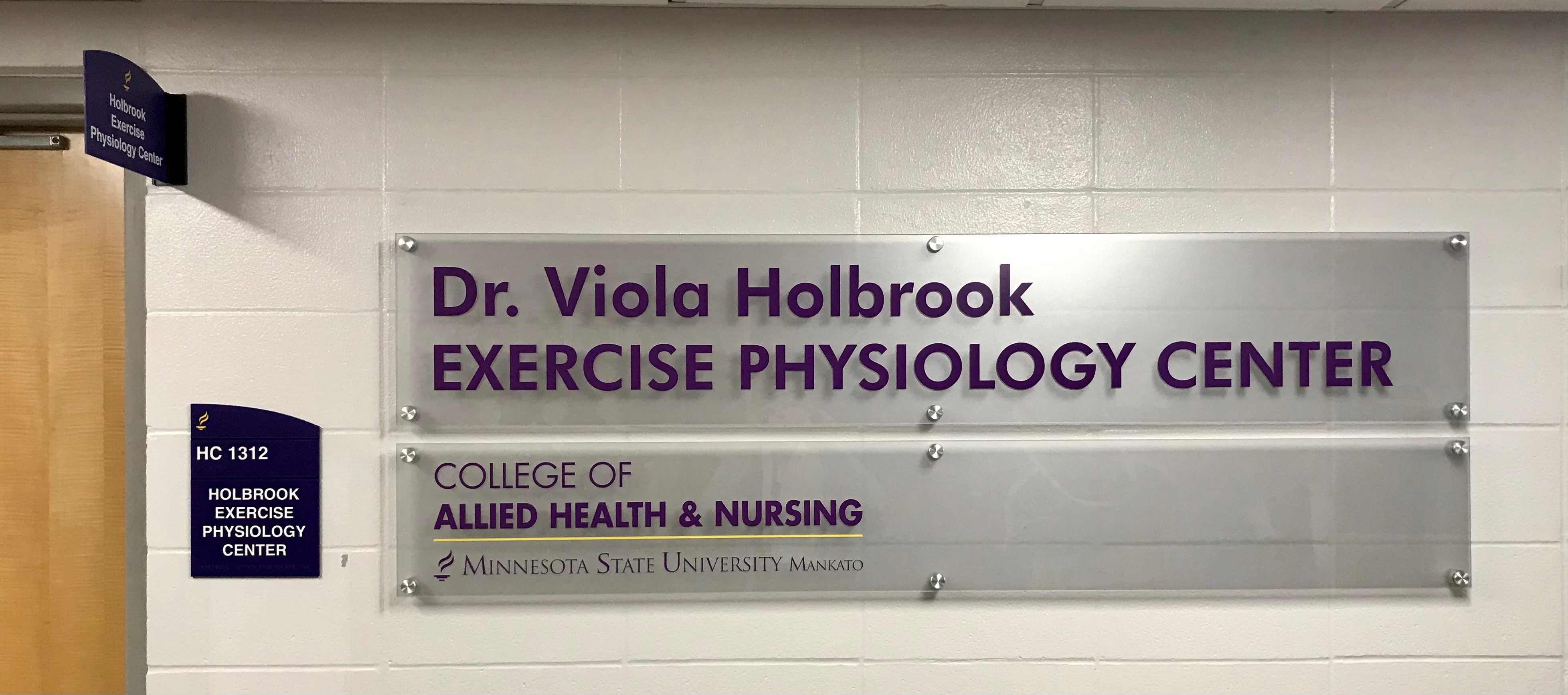 by Grace Brandt
Students studying exercise science at Minnesota State University, Mankato now have the chance to work in a newly renovated, state-of-the-art laboratory—which features an updated name that better aligns with the discipline.
The Dr. Viola Holbrook Exercise Physiology Center allows for innovative research to be conducted by graduate students and faculty, as well as serving as a teaching laboratory for undergraduate students learning core exercise testing and prescription concepts and skills.
The new lab features several pieces of cutting-edge equipment, including a hydrostatic weighing tank, Bod Pod, a high-performance treadmill, one electromagnetically-braked and several mechanically-braked bicycle ergometers, one portable and two stationary metabolic carts and the Polar Team Pro heart rate monitor system.
Until recently, the space was simply called the "human performance lab," but received a new name in honor of Dr. Viola Holbrook, who began teaching at Mankato State College in 1958 and served as a teacher, coach and assistant dean. She left the Exercise Science program an endowment to help maintain equipment and facilitate student research.
"Not every department or every program has somebody who's had such foresight and been so generous," said Jeremy Frost, assistant professor and lab coordinator. "This is a huge benefit to the students."
A state-of-the-art treadmill with additional safety and performance features was also added. Frost said the new lab is far more convenient for students, since the renovation combined two previous lab spaces into one larger, open area.
"It's quite a bit more functional," Frost said. "It's easier to have students in the lab and it allows them all to work together. There's less downtime and more collaboration."
Frost said they are also constantly looking at which equipment to update to ensure students receive access to the latest "research-caliber" resources as they go through the program and prepare for their future in the fitness industry or allied health care field.
When Frost came to the University three years ago, the program only offered lower-body exercise equipment for training and study, but they've added two upper body ergometers, one that allows you to "pedal" with only your arms and one that mimics the arm movements of cross country skiing, along with more bicycle ergometers.
"We feel like we're in a much better position to show the students what's new and what's relevant, and to conduct research with the latest equipment," Frost said. "As we're talking about concepts in class, we can now put them on industry-leading testing equipment to get real-world experience."
Another important aspect to the program is being able to offer students the chance to conduct their own research.

Frost said faculty are always trying to do new research in the fields in which students are interested and continuously strive to offer class and lab work that's directly applicable to the professional duties and responsibilities expected of an exercise professional.
The Exercise Science program currently has about 340 total students in both its undergraduate and graduate programs; those students will go on to become exercise physiologists, strength and conditioning specialists, personal trainers, physical therapists, occupational therapists, athletic trainers and sport coaches.
Zach Erickson, a second-year exercise science graduate student, said Minnesota State Mankato's program has been particularly good at teaching basic concepts and then expanding them into more complex ideas.
"I believe each individual course helped build on each other, creating a solid framework for my professional career," Erickson said.