What students say about RN-BS Completion Online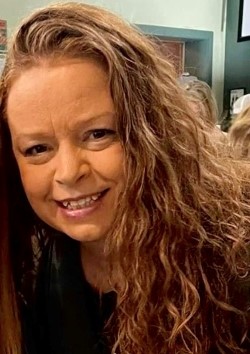 Melissa "Missy" Milbradt
Why did you want to earn your bachelor's degree online?
"I wanted to earn my bachelor's degree online as this does not require me to travel and allows me to do my schoolwork based on my work schedule as my workdays vary. Online learning also allows me to have a work-life-school balance which lessens the stress of being in school and continuing to work."
Why did you choose the RNBCP online program at MSU, Mankato?
"I chose the RNBCP online program at MSU, Mankato because my daughter graduated from MSU, Mankato in May 2022. I had met my goal of raising my child to be a contributing member of society and a college graduate, it was now my turn to go back to school. Another reason I chose MSU, Mankato is because of the family-focused nursing curriculum and because the Statistics course was no longer required at MSU, Mankato!"
Melissa Milbradt is an RN Nursing Supervisor for the AfterHours NurseLine at Park Nicollet where she co-supervises and supports a team of 40 telephone triage nurses and is a part of the Standing Orders committee. Melissa started her nursing career as an LPN float nurse in 2007 at Park Nicollet, working in primary and specialty care as well as telephone triage. In 2012, Melissa received her Associate RN degree from St. Catherine University and continued to work in telephone triage at PN. Then in 2019, Melissa became a supervisor for the AfterHours NurseLine. Melissa is also the president of a homeowner's association in Chaska where she has lived for 7 years, previously living in Minnetonka and originally from Wadena, MN. In her spare time, Melissa loves to shop for vintage/antique items, watching Wild games, and spending time with her 21-year-old daughter as well as her significant other of 5 years.
---
Yasmeen Wazwaz
Why did you want to earn your bachelor's degree online?
"I was worried about starting my BSN since I have been out of school for almost two years. I wasn't confident in completing advanced level papers. However, this program has done a phenomenal job of ensuring the success of each individual. Professors are always eager to help and provide easy and efficient communication methods. With this program, I have built a connection with my professors and classmates. I am pleased with my decision to be part of the RN-BSN program at Minnesota State University, Mankato. After completion of the program, I hope to pursue a graduate degree and advance in my nursing profession."
---
Kevin Chem
Why did you want to earn your bachelor's degree online?
"I moved to Duluth, Minnesota for my first job as a registered nurse shortly after completing my associate degree in nursing. It was an exciting time for me as I was able to become a part of a city that I absolutely adored growing up. Subsequently, I knew that I needed to pursue a higher education. There are so many benefits to obtaining a bachelor's degree as a nurse. Further emphasis on critical thinking skills, research, and higher eligibility for certain jobs are all included in that pool. Personally, I knew that one day I would probably want to pursue graduate school, and having the BS in Nursing was the first step in getting there.
I credit the program at Minnesota State University, Mankato for allowing me to relocate while still being able to go to school because the curriculum is 100% online. A good number of hours were spent directly in the community. I volunteered at the Salvation Army during the day, then worked at the hospital in the evening. I was able to interact with people working on the frontlines of public health through research for the Community Health Needs Assessment. My network expanded as I interviewed the front-runners of tobacco cessation in Duluth, and got an inside look at steps that they are taking to combat the rising usage of vaping within the youth population.
Overall, I am extremely satisfied with the education that I received through Minnesota State University, Mankato. I recommend it to all of my friends and colleagues who are looking to go further in their careers. The staff are friendly and accommodating, and it was obvious at commencement that they were genuinely happy for all of us. I hope future students will consider attending this great program!"