Current Students
Students must first declare Sport Management as their major prior to applying for the program. Once a student has declared their major as Sport Management the student will be assigned an advisor for the program and will be allowed to apply for the program once all requirements have been met.
HP 490/590: Sport Tourism Men's NCAA Basketball Final Four (Spring 2019)
Due to high interest, students must apply to take HP 490/590: Sport Tourism Men's NCAA Basketball Final Four. Applications will be accepted until Friday, October 19. Students from all programs are welcome to apply, however students in the sport management major and graduate program will be given first priority, followed by pre-sport management majors, then students from other majors and programs at the university.
Note that this class will fulfill 3 of your 6 optional electives. If you are accepted into the class, there will be two sections of the course and you will be directed to register for section 1 or 2. You will be expected to volunteer in the Twin Cities for the events preceeding the Men's NCAA Basketball Final Four (April 5-8, 2019). Right now there is a chance we may be able to work within the stadium on the Green Team during the events, but this has not been confirmed. You will need to make alternate arrangements for your other courses during that time. You will be responsible for your own transportation during this time.
Questions? Contact Dr. Suzannah Armentrout at suzannah.armentrout@mnsu.edu
Click here to apply! This online application will be updated and available for application soon.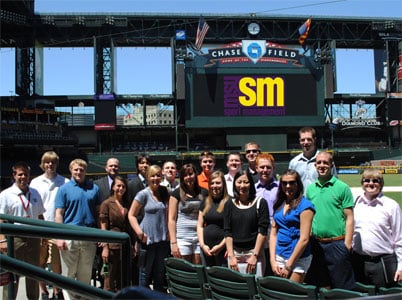 Sport Management program offers various short-term and long-term study abroad programs to locations both within and outside of the United States. Examples of some of our opportunities include:
International Sport Management — a 10 Day course that introduces students to the European Model of Sport Management. Students from MSU and HAN University in the Netherlands participate in the program together.
Earn a minor in one semester in Sport Marketing and Event in the Netherlands
Study Abroad - Australia, Italy, and Norway are some of the possible places students can select from see the international office for information.
The Sport Management Association develops club members into successful sport business professionals through field experience and networking with sport organizations.