Welcome to Sport and Exercise Psychology at MNSU!
Thank you for your interest in our program! Please review the links on the right for details about applications and degree requirements.
We support students who are interested in applied careers and continued study (PhD). Our alumni pursue a range of careers, including (but not limited to): Master Resilience Trainers in the U.S. Army, private practice as mental performance consultants (CMPC), college coaching, athletic training, and student services (career counseling and related positions at a university).
Graduates have continued to doctoral studies in Sport and Exercise Psychology, Counseling Psychology, and Exercise Science. These alumni aim to become licensed psychologists with a speciality in athletic populations, private practitioners, faculty, and researchers. Our program allows students to gain applied and/or research experience to prepare for their preferred career.
Students complete their applied hours of mental performance delivery through The Center for Sport and Performance Psychology. Attained hours are used toward Certified Mental Performance Consultant (CMPC), the gold standard designation for practice developed by the Association for Applied Sport Psychology. To learn more about The Center, please follow this link: www.sportandperformance.org/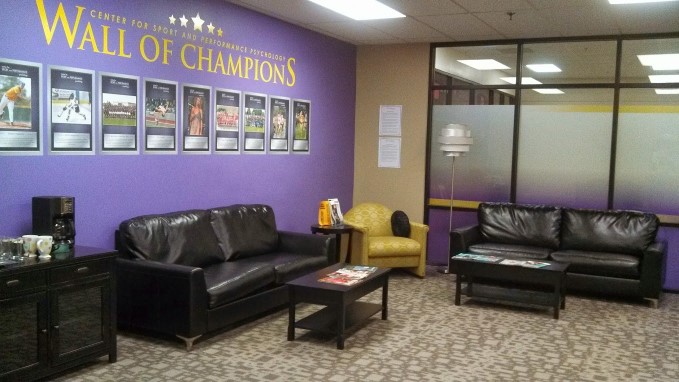 A view of the lobby at The Center for Sport and Performance Psychology.
Our graduate students have success acquiring graduate assistantships throughout the university that compliment their professional interests and classroom learning. Graduate assistantships are posted as they become available. Please use this link to review: www.mnsu.edu/hr/vacancy/index.php
Please reach out with any questions: