Social Work Careers & Specialties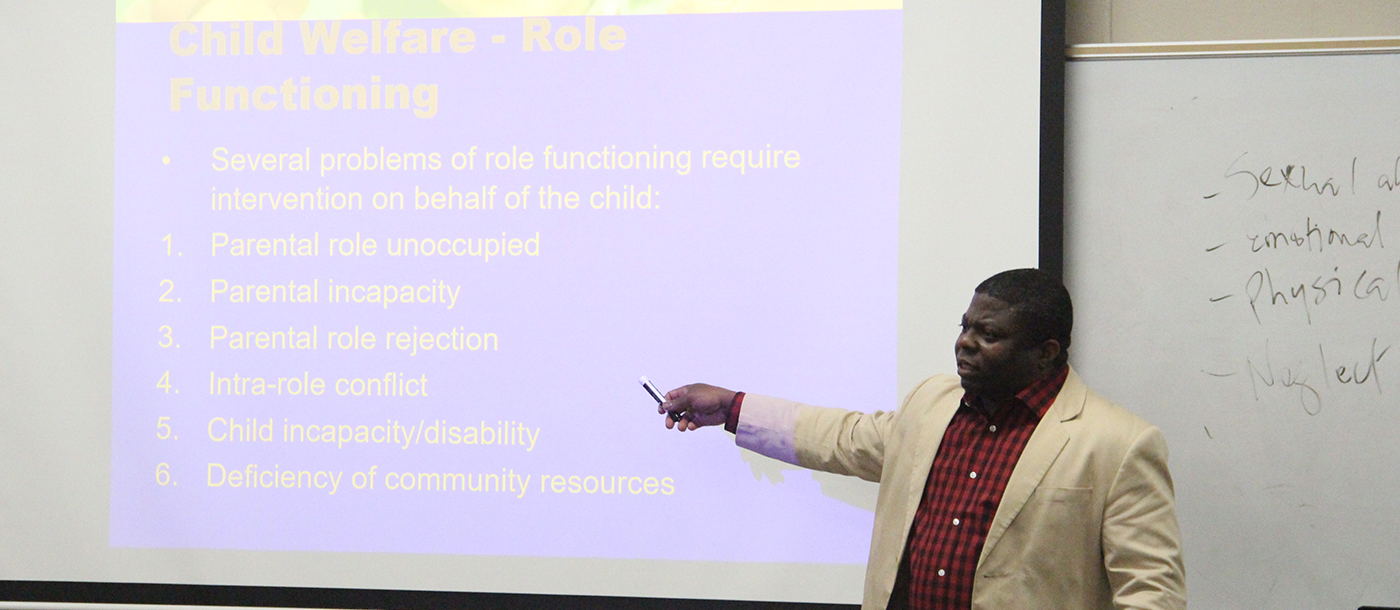 The Social Work Profession: Careers and Fields of Practice
An attraction and a challenge of the social work profession is the variety of jobs and fields of practice available. It is not uncommon to find social workers in schools, hospitals, jails, homeless shelters, colleges, and even libraries. The variety of jobs open to social workers, and the variety of settings in which our alumnae are working, make it difficult to organize a simple list of career possibilities. However, there are some primary areas of practice that are common.
Back to Top

The Child & Family Welfare System
Child welfare professionals work in a variety of settings, including county human services, tribal social service agencies, and private, non-profit agencies. Common roles within child welfare include:
child protection specialists, which conduct intakes, case management, and ongoing services;
alternative service workers providing case management, diversionary, and resource and referral services;
foster care workers doing recruitment, licensing, placement and services;
adoption workers doing recruitment, placement and services; and
in related areas such as daycare licensing and liaisons to schools.
The Department of Social Work has a Title IV-E Child Welfare Stipend Program at both the undergraduate and graduate levels. Through this program, there is the opportunity for stipends to support students who are interested in public child welfare as a career. See the "Child Welfare Program" for more information.
Back to Top

Law Enforcement, Corrections, & Justice Systems
Social work has a long history of involvement in both the youth and adult correctional and judicial systems and a developing role in law enforcement.
Roles for social workers in this field include:
probation and parole workers in community corrections;
partnering with law enforcement in responding to mental health crises;
staffing group homes and other residential programs;
administration of various correctional settings;
working in forensic services; and
victim advocates, community service workers, and liaisons with county attorneys or in victim assistance programs
The Health Care Systems
Social work in the health care services system includes hospitals, clinics, home health care, public health, hospice, mental health centers, residential treatment programs, nursing homes, and rehabilitation settings with children, adolescents, and adults. Health care is one of the primary areas of practice for social workers.
Medical social workers – Social workers in medical settings work in emergency departments, oncology, pediatrics, hospice, integrated behavioral health, specialty care, and in clinic settings. Medical social workers are employed by large health systems, like the Mayo Clinic Health System or Allina, as well as small, community-based clinics.
Behavioral health social work - At the BSSW level, career opportunities may include 'mental health technician,' 'mental health practitioner', or 'case manager' and usually provide services to persons with severe and persistent mental disorders. At the MSW level, graduates can work towards careers as clinicians and therapists. Mental health is a very common area of practice. Behavioral health social workers work for county agencies, state agencies, private non-profit agencies, public and private schools, and private for-profit agencies.
Chemical dependency social work opportunities exist in group homes, out-patient clinics, and treatment centers for youth and adults with families, and individuals. Clients with issues of chemical dependency are present in most settings in which social workers practice, so social workers will likely engage clients with chemical health issues in many areas of practice.
Back to Top

Systems Supporting the Elderly
As our population ages, there is greater need for social workers that support and work with elderly populations.
Social work with the elderly offers career opportunities in:
County human service agencies;
Senior centers;
Retirement centers;
Senior housing, assisted living, nursing homes, and long-term care settings;
Area agencies on aging;
Health care settings; and
Community Action Agencies that address the needs of an aging population.
Systems Serving Persons with Disabilities
Social workers assume a variety of roles with clients who have disabilities. Opportunities exist in community and institutional settings for careers as:
case managers of services to clients,
advocates for individuals and clients as a group,
residential care staff providing support services and guidance,
group home managers administering budgets and directing personnel,
independent living coordinators who help clients develop skills for living on their own,
program developers who create new community-based opportunities for clients, and
community support workers who work with clients in work, home, and recreational settings.
The School Setting
School social workers are employed by public school districts, parochial and private schools, and special education cooperatives. Most social workers are assigned to specific schools in their district or region and work in conjunction with other professionals such as school psychologists, special education staff, school counselors, and with external agencies such as county child protection and case management programs. Roles may include:
assessment, support, or resource referral for individual students and their and families,
case management with children who have individualized educational plans (IEPs),
advocacy on behalf of individual students or unmet student needs,
educational and social development group work,
assessment of students with special learning needs,
consultation and collaboration regarding student behavior and classroom management,
mediation between students and development of those skills with students, and
community involvement representing the school on projects and activities that benefit children and their families.
Increasingly, social workers in school settings address behavioral healthcare and provide therapeutic services that support student success.
Back to Top

Other Social Work Careers and Settings
Employee Assistance Programs
Community Action Agencies
Non-profit agencies that meet basic needs
Counseling centers and community-based social services
International relief / non-governmental organizations
Legislative / public policy institutes
Graduate Education Opportunities
For many career paths, an MSW degree is needed. Persons with MSWs are expected to be able to practice independently and often move into supervision, administration, or clinical social work roles. The typical MSW program is a two-year curriculum with generalist courses the first year and specialization courses the second year.

Graduates of an accredited BSW program may qualify for "advanced placement" that gives credit for the work completed at the BSW level. Some programs will waive the entire first year thus enabling the completion of the MSW in one year rather than two.

Information about the MSW program at Minnesota State Mankato is available online at the Graduate Program page.

Gaining some work experience at the BSW level before going on for the MSW can be advantageous. Choices of graduate schools are often based on factors such as one's life situation (family constraints, financial issues), convenience (proximity, advanced placement), and the MSW curriculum options (the availability of a desired specialization). Faculty advisors can help guide this important decision.

Licensing Requirements
The State of Minnesota requires that all persons with a degree in social work (regardless of their job title), providing services in a social service setting or similar environment, be licensed. Exceptions to licensure are limited. More can be learned about the licensing process and regulations by visiting the Minnesota Board of Social Work website. Students typically begin the licensing process in their final semester and complete that shortly after graduation.