2020: Top 10 Social Media Posts
Here's a look back at the most popular posts shared on the College of Allied Health and Nursing's Facebook page from 2020. (Source: Facebook Insights). And, if you're not already following us, please do so: Facebook and Twitter. Enjoy!
---
Before the Top 10, a few noteworthy mentions...
Largest Reach: Matthew Schiffmann selected as College commencement speaker
Posted May 2020: this post received the largest reach (number of people who saw the post)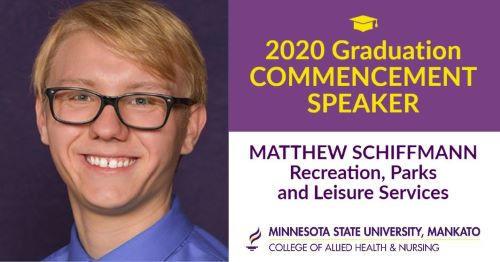 The College of Allied Health and Nursing is proud to announce our student Commencement speaker is Matthew Schiffmann from Omaha, NE. Matthew is graduating from the Department of Recreation, Parks & Leisure Services. Congratulations to Matthew and all our graduates!
---
Highest Engagement: Krista Gadient selected as College commencement speaker
Posted December 2020: this post, which appeared on the University and College social media channels, received the most overall engagement (likes, comments, shares)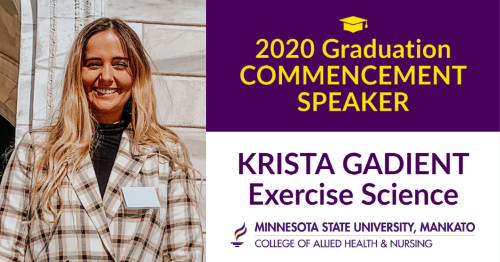 Krista Gadient has been selected as the graduation speaker for the College of Allied Health & Nursing-Minnesota State University, Mankato.


Krista is graduating with a Bachelor of Science in
exercise science
. She grew up in Goodhue, Minnesota, and enjoys hiking, cooking, and spending time with friends and family. Throughout her time as a Maverick, she has actively volunteered within the community with Girls on the Run and VINE Adult Community Center.

Krista believes that the mere universality of her program is what makes it so enriching. She says, "exercise is one common component that can assist us all in living a healthy life." Following graduation, her career aspiration is to become an occupational therapist or nurse. She states that her program has equipped her to work well within different environments. The pandemic this year has thrown obstacles at all of us. Krista's advice to everyone is to "find the will and courage to create your own path."
---
Most Likes: Nursing faculty begin to receive vaccine
Posted December 2020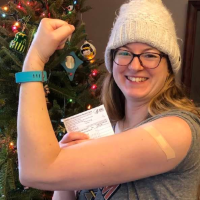 Exciting news! Some of our nursing faculty, many of whom are also practicing nurses, have started to receive the COVID-19 vaccine! #MaskUpMavs #WeCanDoIt
---
#10: Dr. Chiou receives 2020 Distinguished Faculty Scholar Award
Posted April 2020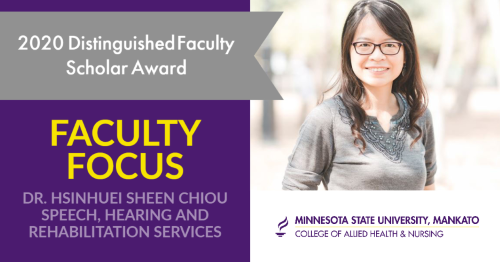 Congratulations to Dr. Hsinhuei Sheen Chiou, a Speech, Hearing & Rehabilitation Services professor for receiving the 2020 Minnesota State University, Mankato Distinguished Faculty Scholar Award! She is a local, national and international scholar and currently engaged in patient-centered research for those with brain injuries. She also supports meaningful engagement for individuals with dementia and their care partners, is a lead instructor for the MSU-Mankato Global Experiences program and has mentored more than 100 undergraduate and graduate students in research. Learn more about Sheen at https://link.mnsu.edu/86v
---
#9: Human Performance faculty receive recognition, awards
Posted December 2020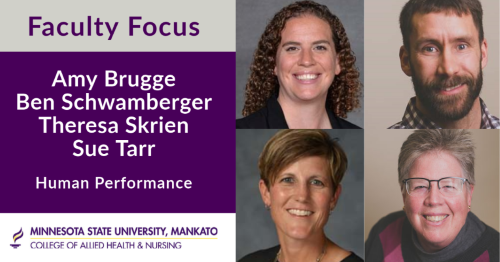 Congratulations to these athletic training, health, and physical education faculty for being recognized for their innovation and collaboration this fall! Learn more about their awards and honors.
---
#8: Public Dental Clinic is open
Posted August 2020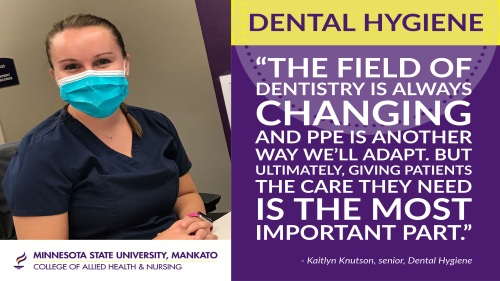 The public dental clinic, located in the Clinical Sciences Building, is OPEN and welcoming patients! If you are in need of a high-quality, affordable dental cleaning, our students and faculty hygienists are ready to provide a safe and positive experience! For appointments, call 507-389-2147 or email dentalclinic@mnsu.edu. Learn more, including what to expect after you've made your appointment at
https://link.mnsu.edu/8b2
---
#7: Dental Hygiene Month
Posted November 2020
October was #DentalHygieneMonth and what a month it was! Our public dental accepted new patients, we hosted two full days of free dental care for kids, welcomed MPR News for a peek behind-the-scenes, prepared to launch a new Advanced Dental Therapist (ADT) Master's program next fall, celebrated students who presented their research and received scholarships, ensured students stayed on track for their degrees, continued our partnership with Mayo Clinic Health System, hosted information sessions for our online BS degree completion program, finalized plans for a fun addition to our lobby, and continued to monitor progress on a forthcoming TPT - Twin Cities PBS documentary titled "Uncovered: Minnesota's Dental Crisis" we were interviewed for. And we did it all with a smile behind our masks!
Special thanks to Delta Dental of Minnesota and the Minnesota Department of Health for grants that not only help us provide some of these real-world experiences for our students, but allow us to give back to the community, too, Up next? Free dental care for veterans and military personnel Nov. 10 and 12. Catch up on all this and more at https://link.mnsu.edu/smile
---
#6: Warm wishes from Dr. Von Bank
Posted May 2020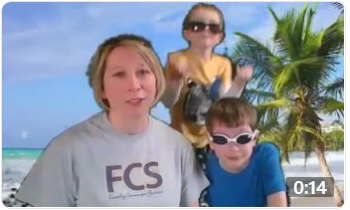 It's the last week of a wild semester, folks. Dr. Heather Von Bank, Department of Family Consumer Science, has a short (but very energetic) message for you!
---
#5: Call for proposals for the Health and Biomedical Sciences Event
Originally posted January 2020, text below updated December 2020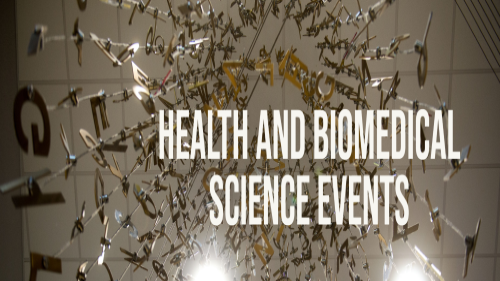 Many of the proposals submitted for last spring's 2020 Health and Biomedical Sciences Summit weren't able to be shared due to the pandemic, but we are thrilled that many WILL get to be shared during the upcoming event on March 24, 2021. The event, "Creating Health Equity: Social Justice & the Social Determinants of Health" will examine the economy, health care, neighborhoods and quality of life through a social justice lens.
---
#4: Dr. Adwan named nurse educator of the year
Posted September 2020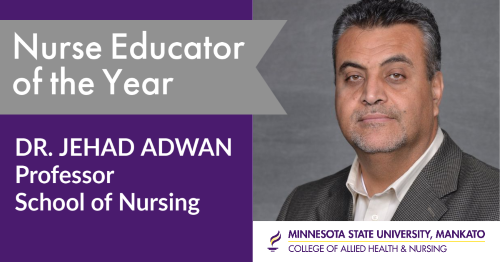 Dr. Jehad Adwan, a professor in the School of Nursing, has been named the Nurse Educator of the Year by the Minnesota Nurses Association (MNA). The Award honors a nurse educator who has demonstrated expertise in the teaching of nursing and is recognized by their peers as a role model of sustained, consistent, high quality teaching. Learn more about Dr. Adwan and the surprise award presentation. Congratulations Dr. Adwan!
---
#3: Congratulations to the 2020-2021 scholarship recipients
Posted October 2020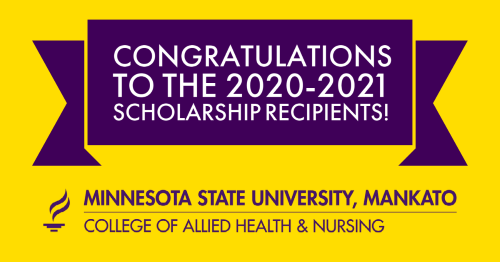 Congratulations to the 2020-2021 College of Allied Health and Nursing scholarship recipients! This year, 88 students in the College received $167,400 to support their big ideas. Thank you to all our donors who make education more affordable for many of our dedicated students. See the full list of recipients.
---
#2: Nursing alumni, retired faculty and supporters donate to PPE fund for nursing students
Posted November 2020
When Minnesota State Mankato nursing students needed face shields and masks to continue their education in clinical settings, it was an additional, unexpected expense. But, thanks to 12 generous supporters—many of them retired Minnesota State Mankato nursing faculty or alumni—$10,800 was donated for PPE, allowing students to get the experience needed to pursue their nursing career.
---
#1: Thank you to all our health care providers
Posted March 2020