Teeth exhibit connects play to the real world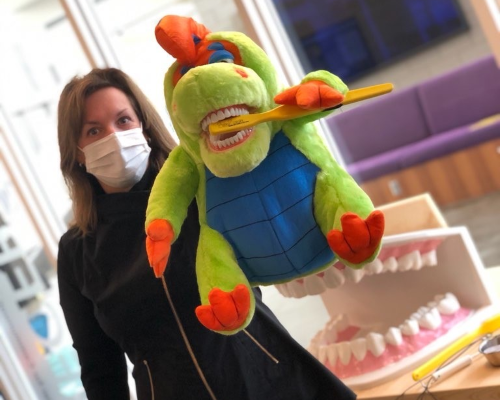 The public dental clinic at Minnesota State Mankato has welcomed an educational "permanent tooth" display to the clinic lobby.
Created by the Children's Museum of Southern Minnesota (CMSM), the exhibit gives dental hygiene students another opportunity to educate patients who receive care at the clinic during regular appointments or during special events such as Health for Heroes or Give Kids A Smile.
Heather Von Bank, a professor of Family Consumer Science, play advocate, and CMSM board member, said the exhibit helps create a welcoming environment for children.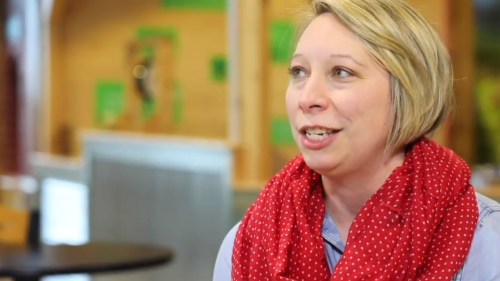 "Going to the dentist can be overwhelming for kids but bringing a bit of pretend play to what may be an unknown situation can help reduce anxiety and make it more comfortable," Von Bank said.
Von Bank said the exhibit provides a connection to the real world and allows dental hygiene students to work with patients on concepts such as flossing or cavities, which could especially benefit patients with autism, sensory processing disorders, or other developmental disabilities.
"Aside from being a fun way to educate patients, it allows dental students the opportunity to speak the language of children, which is play."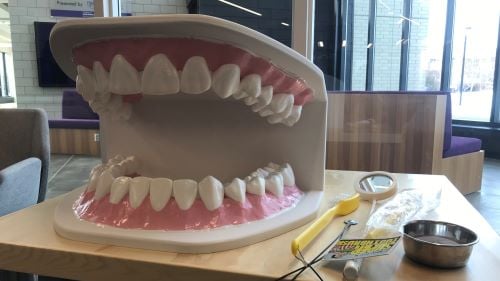 Photos: Top: Brigette Cooper, chair of Dental Education, holds up the puppet (named "Flossasauraus") which helps teach children proper brushing techniques. Middle: Heather Von Bank, professor of Family Consumer Science and board member of the Children's Museum of Southern Minnesota. Bottom: The interactive "teeth display" includes a giant mouth and coordinating toothbrush, floss and mirror, all at a kid-friendly height.