Minnesota State Mankato welcomes Kansai Medical University delegation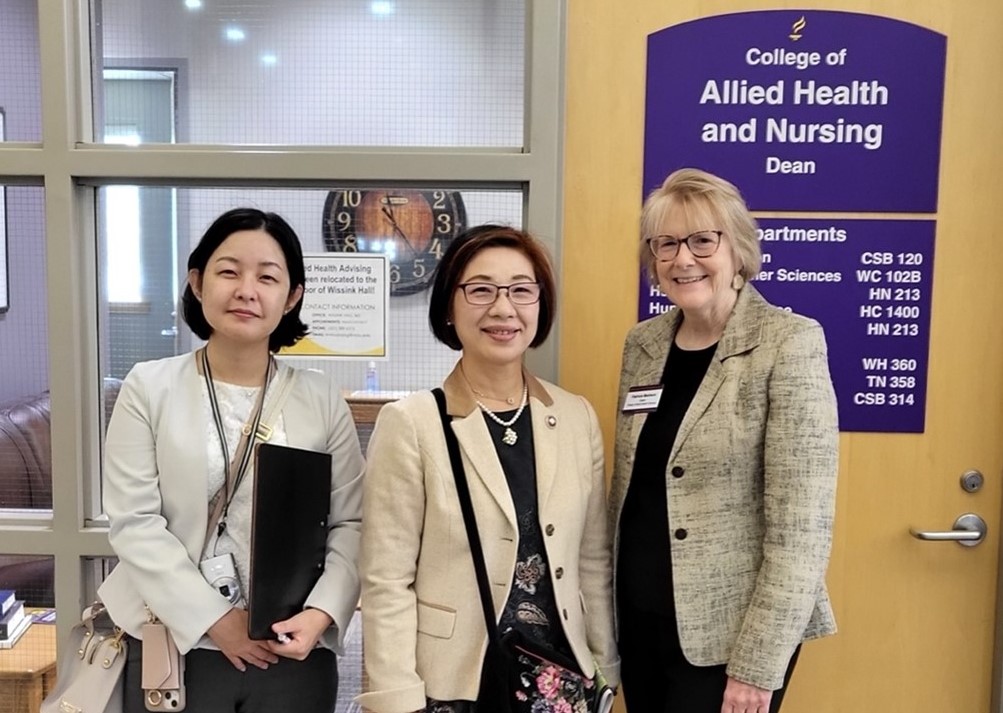 by the Glen Taylor Nursing Institute for Family and Society
In an effort to foster international collaborations and broaden its global presence, Kansai Medical University's Dean Reiki Kato and faculty member Fusako Takahashi (pictured here with Dean Patty Marincic) embarked on a visit to Minnesota State University, Mankato.
Kansai Medical University (KMU), renowned as one of Japan's premier private institutions and located in Suita City, Japan, sought to explore partnership opportunities and the development of a Memorandum of Understanding during their visit. The Glen Taylor Institute facilitated this engagement.
At the heart of this collaboration, Dean Marincic assumed a pivotal role in promoting a partnership that both benefits the university as well as opening new doors for the students and faculty in the College of Allied Health and Nursing (CAHN) at Minnesota State Mankato. The primary aim of this initiative is to enrich opportunities for students and faculty from both universities through mutually beneficial collaborations encompassing education and research.
A significant outcome of this visit is KMU's intention to send ten nursing students to Minnesota State Mankato in 2025 for a two-week collaborative program within the nursing field. This endeavor is envisioned as a model for prospective collaborations across various departments in the future.
Dr. Paolo Infante, Director of the Center for English Language Programs (CELP), has developed a sustainable framework for forthcoming visits, ensuring the ongoing growth and evolution of the relationship between KMU and Minnesota State Mankato.
The framework focuses on joint educational programming between CAHN and CELP, whereby KMU students participate in nursing-related learning experiences while concurrently developing their English language skills through intensive English courses as well as social and cultural activities.
This international partnership holds the promise of delivering valuable cross-cultural experiences and educational opportunities to both institutions, heralding the onset of a sustained collaboration and exchanges within the academic realm.
>> More about the Glen Taylor Nursing Institute for Family and Society