Dietetics majors Chance and Payton dish about their summer internship and career goals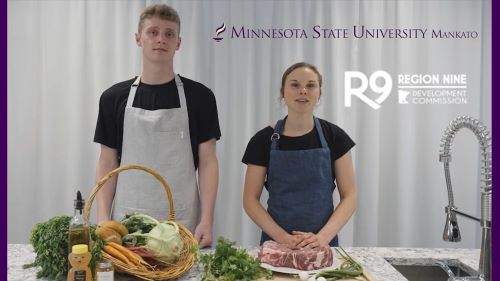 Chance Washburn (left), a dietetics major with a minor in sports medicine from Kenyon, Minnesota, and Payton Dosan (right), also a dietetics major with a minor in sports medicine from Eveleth, Minnesota interned over the summer at Region Nine Development Commission, working to highlight local foods by creating recipes and videos with products grown and produced in South Central Minnesota. They took a few minutes to give us the scoop about their major and career goals.
How did you end up in your major?
Chance: I ended up in dietetics because I got really into cooking and eating healthier after losing a lot of weight, so I wanted to help others with their goals.
Payton: I started in exercise science unsure of the direction I wanted to go, but after listening to a podcast that said, "pay attention to what you pay attention to," it clicked. I surround myself with all things health, nutrition, and wellness it was just an "aha" moment for me. It's definitely the path I'm meant to take.
Favorite part about your internship?
Chance: Feeling like we had our own cooking show and sharing healthy recipes we created with the community.
Payton: Meeting and working with amazing, creative people and sharing my love for food and sustainability with everyone.
Their recipes and videos can all be found on the Region Nine Development Commission's Facebook page.
Any new local food favorites or discoveries?
Chance: I found the local vendor, Twin Arrow Spices from St. Clair, has a handful of amazing different spice blends that I have loved to get.
Payton: I love all the stands at the Farmers Market, specifically Cedar Crate Farm because they are so transparent and community driven - I get my CSA box from them too. I also love Under the Sun Herbs – they are so kind and informative. I also want to highlight Stone Hearth Farm and Garden, they do an amazing job with their arrangements - the love really shows.
Learn more about some of the vendors they mention on the Farmer's Market website
What are your career goals?
Chance: I don't know exactly what route I want to take with Dietetics yet, but it would be so much fun to be able to do what I did for my internship as a career.
Payton: My goal is to become a Registered Dietician and have my own private practice focusing on integrative nutrition and sustainability.
Best part about dietetics and/or you major?
Chance: The best part about dietetics for me is that I get to learn more about how to be healthy and how to help others with that knowledge.
Payton: I love learning more about what I am passionate about, it makes me excited for my future. I also owe a lot of credit and appreciation towards my truly wonderful advisor, Dr. Shelly Brandenburger. She is an educational powerhouse and I look up to her greatly -- I am so grateful to have her as a role model!