The Elusive Regalia
How Minnesota State Mankato helped make commencement special for one future health care leader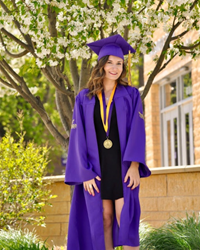 "I hope you can assist – I can't imagine not having photos of Zoya in her regalia after all of this...can you help us?" Kate wrote.
Several weeks prior, when it was announced that the in-person commencement ceremony wouldn't take place, Kate sent a message to Kris Retherford, dean of the College of Allied Health and Nursing, saying that over the years, the dean had always encouraged students and families to reach out if they had a question.
Kate did.
She desperately wondered if there would be any way for students—even with no in-person ceremony—to purchase "graduation gear".
"If we could order the items and have the opportunity to 'mock up' a graduation with the meaningful symbols of the caps and gowns it could make the sting of not having a ceremony a little lighter," Kate wrote.
Dean Retherford forwarded the request, which made its way to the folks behind the scenes who had planned to cancel all regalia orders. After seeing this and other similar requests, coordinators shifted to giving students the option to purchase regalia, which Kate promptly did. Zoya's cap, gown and honor's medal were set to arrive in early May, a few days prior to commencement.
So, when two days before graduation, the regalia hadn't arrived, Kate messaged me. She said others who had ordered later than she had, already had theirs, and the delivery company couldn't help her locate the package without a tracking number. I forwarded the message to Taylor Schmahl, who was working with commencement.
That night, through a flurry of emails, two staff and one mom tried to piece together where the regalia was and if it had even been shipped. In one email Taylor wrote to me "my heart breaks in these situations" noting she knew everyone was doing everything they could to make commencement as meaningful as possible for students. But, the regalia vendor, too, had staffing limitations due to COVID-19.
Despite ordering early, there was no regalia or tracking number to be found.
Between Thursday night and Friday morning—commencement eve—Taylor worked with Janine Haslach at the Barnes and Noble campus bookstore, to get Zoya's regalia. Taylor then hand-delivered it to Zoya, who was still living in Mankato, but on her way to her hometown of Winona.
With all that's going on in the world, having the regalia could seem like a low priority. But to Kate, whose mother graduated from Minnesota State Mankato, and her daughter, who is planning to pursue her doctoral degree, that day—that moment—was everything. It symbolized all that Zoya and her fellow graduates worked for. It represented commitment, completion, and transition.
"A simple "thank you" does not seem to be enough," Kate wrote in a follow up email. "This accommodation means a great deal to us. Thanks for caring, and thanks for doing something about the request. We are grateful Zoya chose a school that truly cares about its students and their families."
- Pulse Magazine Editor