Summer services at Health Commons at Pond
Program helps fill gap for families and gives students real-world experience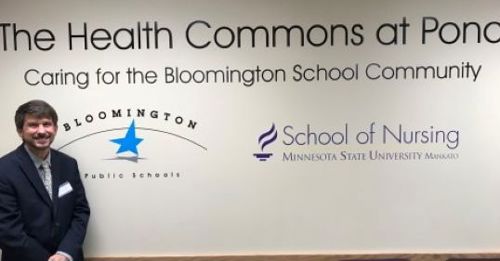 Last summer, students in the Department of Speech, Hearing and Rehabilitation Services (SHRS) began to provide services to children at the Speech-Language-and-Learning Clinic at the Health Commons at Pond, located in Bloomington, Minnesota, a Twin Cities suburb.
Health Commons at Pond is a free medical clinic providing health and wellness care to Bloomington Public School students and families—often low-income or immigrants—at no cost. Minnesota State University, Mankato faculty and Family Nurse Practitioner-level nursing students provide care in collaboration with other providers as needed.
SHRS Department assistant professor Wm. Eric Strong (pictured), said that children with communication disorders need extra speech and language support—through assessment, diagnosis, and treatment—during typical summers. However, in the summer of 2020 and this entire academic year, the program became an essential service for many families. Schools lacked or scaled back specialized educational support, a problematic pandemic outcome.
The hope, Strong said, was to connect with families through telepractice over the summer, so children with communication disorders and other disabilities were more ready to learn in the fall.
Using telepractice also provided an opportunity for Minnesota State Mankato student clinicians to learn how to give the best care possible to parents and their children online.
"I emphasized the ethical aspects behind serving these communities to our students," Dr. Strong said. "Homing in on the ethics of justice, critique, care and one's profession help students pay attention to and evaluate their thinking which provides better care for families."
Strong said the partnership between SHRS and Bloomington Schools started at just the right time. The Department is looking forward to expanding speech-language pathology services at that site as the pandemic problem improves.
"We are so grateful to be there," Strong said. "The community needed the Speech-Language-and-Learning clinical program, and feedback is overwhelmingly positive from both our graduate students and those receiving services."