RPLS alumna makes most of time outdoors
An increase in outdoor recreation means an increase in engagement opportunities for Conservation Officer Chelsey Bechel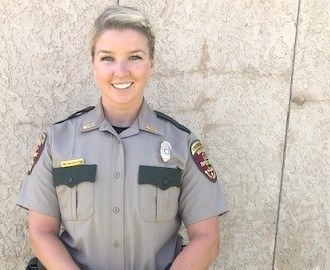 Growing up in Afton, Minnesota, Chelsey Bechel '17 (pictured), developed a love of hunting, fishing and all things outdoors.
Now, with the number of people heading outdoors still booming due to the pandemic, the Recreation and Parks Leadership Studies (RPLS) graduate is using her passion to help others safely enjoy their activities as one of Minnesota's newest Department of Natural Resources (DNR) Conservation Officers (CO).
Bechel, who started at Minnesota State University, Mankato as a law enforcement major, said she remembers hearing about Conservation Officers at some point, and then, after learning about the RPLS program, knowing it was the path for her.
"RPLS was just perfect for me–I could work outside," Bechel said. "I had fantastic teachers at Minnesota State Mankato and a had a lot of fun in my classes that were outdoor-based. Creating programming for nonprofits, encouraging things like ropes courses—it was such a completely different learning environment.
The RPLS major has an emphasis in cultural and natural resource management and a minor in law enforcement. As a student, she interned at the DNR, and after graduation, worked at Washington County Parks and as a Sentence to Serve crew leader, taking people on probation out to do community service.
Bechel then applied for, and was one of 14 accepted into, the competitive DNR CO Academy that started in the summer of 2020.
Every day is different
During the training, Bechel learned more about the role COs play in community and how their work helps develop the next generation of conservationists. She also trained in fish and wildlife laws, boat and water regulations and rules relating to fish and wildlife investigations.
"Going in with the resource management degree and understanding different ecological impacts, habitats, species for animals, as well as the program planning side helps with things like hunter education or snowmobile safety was incredibly helpful."
With natural areas seeing record numbers of use, she's seeing increased engagement with the public, which his just fine by her.
"The majority of my time I get to help people do fun recreation things safely, but every day is different," Bechel said. "Sometimes I even get to have short conversations with people who are out fishing and talk to them about what they are catching—that's exciting to me."