Retiring dean reflects on a decade of service
Kristine Retherford leaves a lasting impact on the health of campus - and the community
Kris Retherford, Ph.D., didn't plan to become the dean of the College of Allied Health and Nursing at Minnesota State University, Mankato.
"I loved my job and my program," says Retherford, who was serving as chair of Communication Sciences and Disorders at the University of Wisconsin—Eau Claire when a headhunter came calling.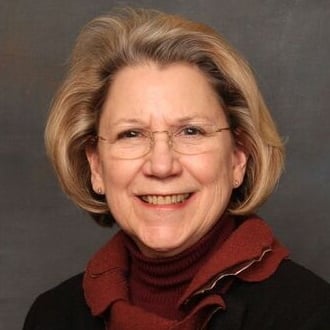 "I told my colleagues about the call regarding Minnesota State Mankato," she said. "They all said I should apply. As a proud 1973 alumna, I couldn't resist."
That application led to an interview. The interview led to a job offer. And—spoiler alert—Retherford accepted the position.
Ten years later, she's glad she did.
THE PATH TO SPEECH PATHOLOGY: FINDING A CAREER MATCH
Retherford's journey back to Minnesota State Mankato starts on a tennis court. She'd just transferred from the University of Wisconsin—Green Bay, where she'd been a pre-med major. Leery of the many years of schooling required to become a physician, she'd decided to become a physical therapist instead.
That plan lasted until a chance meeting with a professor on the University's tennis courts. Neither of their tennis partners showed up, so they agreed to play a match. She ended up staying for a second match—and a life-changing conversation.
"This person I'd just met told me I didn't strike him as someone who'd want to be a physical therapist," Retherford said. "He explained why and told me he thought I'd be better suited to a different profession."
A profession like speech language pathology, which happened to be his discipline. Retherford was intrigued. And as she learned about the profession, she realized it was the right fit. After completing her degree at Minnesota State Mankato, she went on to earn both a master's and doctorate at the University of Wisconsin— Madison.
TEACHING, LEADING, GOING "HOME"
Soon after graduation, she began teaching at the University of Wisconsin—Eau Claire. "I loved seeing students 'get it,'" she said. "That moment when you can see something click—there's nothing like it."
Retherford was also a skilled administrator and found herself moving up the leadership ranks at Eau Claire. Eventually, she was named chair of her department. That led to other opportunities. "Once you become chair, the headhunters start calling," she said. Their repeated calls didn't interest her—until the Mankato opportunity. "It was like being able to go home again," she said. "Who gets the chance to do that?"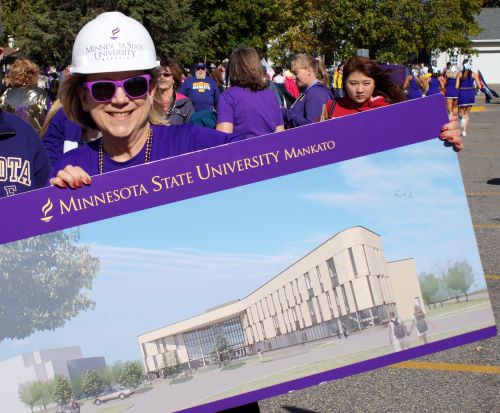 WELCOMING "DEAN KRIS"
Once back on campus, "Dean Kris," as she became known, quickly began advocating for the programs and places she believed in.
Among her early efforts was a push for a new Clinical Sciences Building. The construction request had been turned down by the state legislature three times prior to her tenure. Nevertheless, she persisted, advocating for the spaces she knew her students—and the community—would benefit from.
In 2014, her tireless efforts were rewarded when the legislature approved a $27 million bonding bill. The Clinical Sciences Building opened in 2017. "I envisioned this building as a welcoming place for all," Dean Kris said. The architect who designed the space told her that she'd open her arms whenever she talked about the space. That image—arms wide to welcome the community and students—influenced the design, which ultimately won two architecture awards. "I'm really proud of the work the College did to make this happen," she said.
BUILDING FOR THE FUTURE
Dean Kris built more than physical structures during her tenure. She launched Pulse magazine, established efforts around diversity, equity and inclusion and accessibility, grew a partnership with Mayo Clinic Health System, and most recently, supported the new Center for Rural Behavioral Health.
She also started and grew the Health and Biomedical Sciences Summit, an event that features well-known speakers and presentations from international, national and regional experts, faculty and students.
"The Summit is a way to bring students from different disciplines together to focus on a critical health topic," Dean Kris said. "As professionals, students won't work in silos. I'm a believer that students need to have opportunities to learn to work together while they're on our campus."
THE NEXT CHAPTER
With her abundant energy and passion for higher education, it's easy to imagine Dean Kris leading the college for another decade. But she's ready to turn her attention to other parts of her life.
"I'll do some traveling and spend more time with family," she said of her retirement plans. "And I'll probably volunteer as a reading tutor."
And while she's looking forward to retirement, she says there's much she will miss about her role as dean. "I'll miss seeing the way our faculty engage with students," she said. "I'll miss the synergy and energy on campus. And I'll miss the discipline —our programs are helping disciplines. Our students will be—and are—doing important work."
AND DEAN KRIS WILL BE ROOTING FOR THEM, FOREVER

See more photos of Dean Kris and the full article in the 2022 Pulse Magazine