Renovated food lab gives dietetic and nutrition students a taste of their future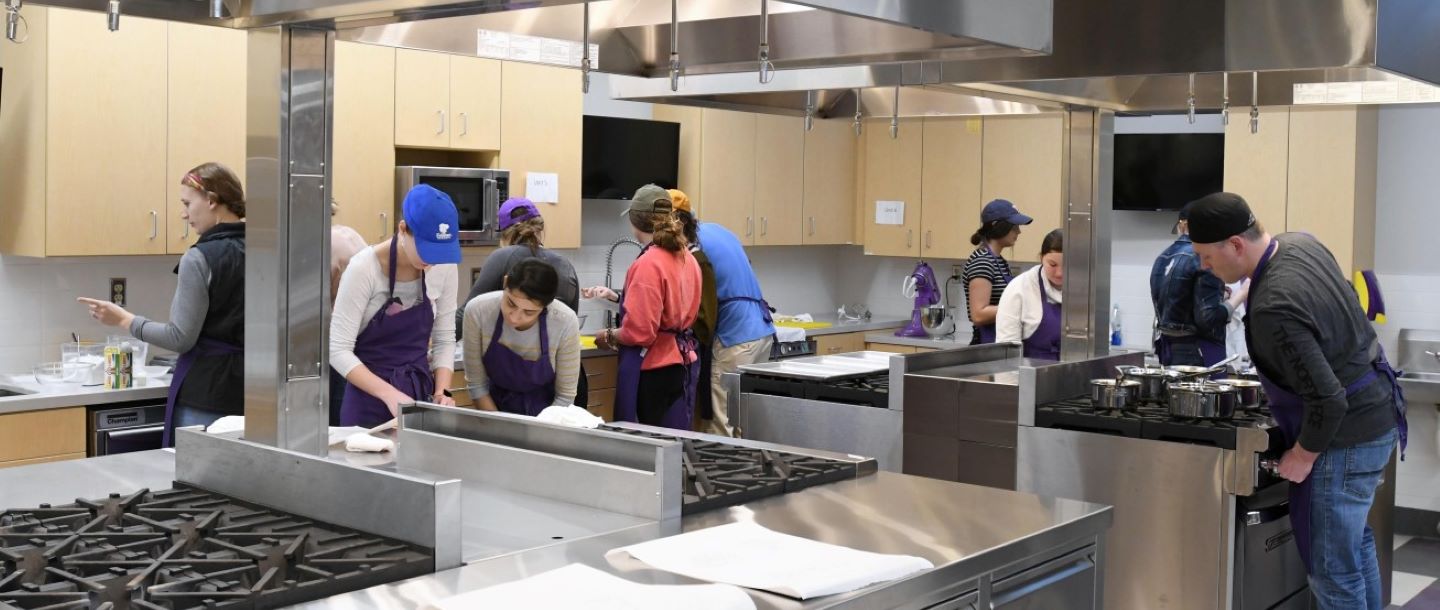 by Grace Brandt
For 70 years, students have learned valuable life and professional skills through Minnesota State University, Mankato's Department of Family Consumer Science.
The department has grown and expanded over the years, eventually offering four majors: dietetics, child development and family studies, family consumer science education and foods and nutrition. Several minors are also now included, and the program has more than 280 students working toward degrees.
Recently, the department went through another change, when the University completed a renovation of its space in Wiecking Center. The renovation included a much-needed update of the building's classrooms, office spaces and technology. High-tech video displays and flexible classroom spaces were added to better accommodate individuals of all abilities.
One of the highlights, however, was an overhaul of the department's food lab, which hadn't been renovated since the 1980s.
The renovation included knocking out a wall between two rooms to create a larger, open space, updating the lab with state-of-the-art appliances such as a combi oven (which can automatically cook six different trays of food to six different temperatures), commercial gas ranges and video screens that can double as computer monitors at every work station. The new space also includes commercial dishwashers, an herb garden, collaboration space and a display workstation with overhead cameras at the front.
"Prior to the renovation, we didn't even have enough electrical outlets, so were stringing cords for a blender," said Joye Bond, a Family Consumer Science professor.
Bond said the new space creates a better experience for students because she can teach using equipment that her students will use upon graduation. During classes, students are also able to either gather around one large workstation for demonstrations or watch on monitors located around the room.
Hannah Supan, a senior dietetics major, has experienced both the old and the new food labs. Not surprisingly, she greatly prefers the new one.
"Everything we need is in this room," Supan said. "As professionals in the field, the facilities that we'll be working in are a lot more like this one than the one before. I think that's important, just to understand how to use industrial equipment."
In addition to the food lab, the department also has its own food science lab, where students have the opportunity to test and research food down to its pH and moisture levels, as well as a sensory lab, where students can taste test foods in a highly controlled environment.

These types of labs are unique at the university level. They also give students access to educational and real-world experiences that better prepare them for a wide range of careers—including clinical dietitians, wellness nutritionists, food service managers, youth home directors, family and parenting educators and other opportunities that promote the health and well-being of families.
"I think we are kind of a hidden gem on this campus," said Heather Von Bank, professor and chair of the Family Consumer Science Department. "We get a lot of students who come here for something else, and then find the Family Consumer Science program and end up finding a home here."