Recreation through a computer screen?
Recent grad spends last semester trying to keep kids and families active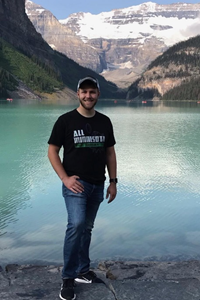 When Brandon Carlson started his Recreation, Parks and Leisure Services (RPLS) practicum in early 2020, he was helping plan summer programming for the community of St. Peter, Minnesota.
Carlson, who graduated this spring with a double emphasis in resource management and leisure management, began the year engaged in planning a summer camp for kids in grades K-5, with themed activities, snacks and programs.
"One of the themes for later in the summer was going to be around the Olympics," Carlson said. "I even had a Minnesota State University, Mankato alumni rugby player lined up to work with the kids. But none of that is happening now."
Instead, Carlson found himself helping design what has now become a familiar term: "alternative programming." He researched online platforms, learned about "e-sports," explored "to-go" kits for summer camps and coordinated activities—including fun runs—virtually.
"I never thought recreation would be through a computer screen," he said.
Carlson, who chose to focus on resource management partially because he wanted to be outdoors, knows the role recreation plays in people's overall health and well-being. He also knows how important it is to keep kids active and engaged—especially in the summer, with or without a pandemic.
"Families need access to recreation and activities," Carlson said. "It's a big challenge now, trying to keep the community connected and making activities inclusive so that everyone can participate."
Carlson, who is from Minnetonka, plans to spend the summer reassessing his next steps. He would like to work in community education or be a recreation supervisor, and hopes his experience having to switch gears to online programming will ultimately help him.
"I received a great education at Minnesota State Mankato," Carlson said. "It ended through a different lens, but it may actually help up open up additional or different avenues for me. It's an interesting way to start my career, that's for sure."