Quitting time
Alumni Update
By Drew Lyon
Health experts say there's no time like the present to quit vaping or using other tobacco products.
"Keeping your lungs healthy is especially important right now, during COVID-19," says Liz Heimer, a Minnesota State Mankato alum and health promotions specialist with the American Lung Association.
"This is truly the best time to quit, and students can help protect themselves by limiting substances that are being inhaled."
The ongoing pandemic is once again underscoring the harmful effects smoking can have on the respiratory and immune systems. COVID-19 is a respiratory illness that attacks the lungs, leaving smokers more vulnerable to its effects, according to the Centers for Disease Control and Prevention (CDC). Inhaling tobacco smoke and vaping emissions damages the immune system and can create lung inflammation.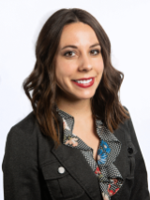 "Our vision is to improve lung health and prevent lung disease," Heimer says. "We'd be blind to the major issues going on if we didn't focus on COVID."
Cutting tobacco use during the ongoing pandemic—particularly around others—should also be seen as a common courtesy to protect others from exposure, says Mary Kramer, an assistant professor of Health Science at Minnesota State Mankato. Smokers also tend to share vaping products, and a recent University study showed 84 percent of University students reported being exposed to tobacco emissions while on campus.
"With all the other safety measures in place right now, there's never been a better time for having respect for the health of people around you," Kramer says. "We've come a long way with cigarettes, but now there's this whole new (vaping) industry."
In 2006, the University became one of the state's first smoke-free campuses. This year, the University was awarded a grant from the American Lung Society offering students free resources to quit tobacco. Heimer also recommends Minnesota's new Quit Partner program, which provides students with free counseling and nicotine replacement. Combining medication with counseling can double a smoker's chances of quitting tobacco.
"It's kind of a really good time to offer these programs, for those who want to quit," Kramer says. "We want to point them in the right direction."
As students have shifted to various methods of consuming tobacco—vaping, hookahs, chewing tobacco, etc.—the University continues clarifying and updating its tobacco policy. Heimer, who earned her master's degree in community health from Minnesota State Mankato, often makes outreach efforts on campus to emphasize to students the dangers of tobacco. Before the pandemic closed all on-campus activities, Heimer was slated to appear on a tobacco and vaping panel. She also played a role in successfully advocating the Minnesota Legislature to raise the legal age to purchase tobacco products to 21.
"We're constantly engaging students to point them in the right direction and talk about how they can quit," she says.
Quitting tobacco in any form is a wise health decision—before, during or after a pandemic, Heimer says.
"These preventions happen to be supportive of the current climate from protecting against severe complications of COVID-19," she says. "There's no better time than now."