Social Work moves forward with a legacy of best practices
New home features increased collaboration, virtual reality and expanded partnerships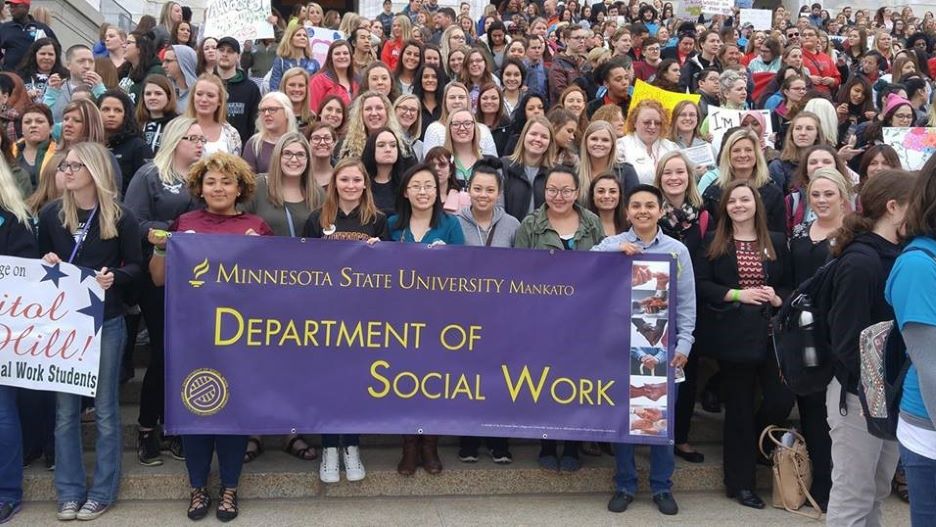 By Nicole Sisk
When looking for a new home, buyers are often told to focus on one thing: location, location, location.
That same focus has guided the leaders of the Minnesota State University, Mankato Department of Social Work over the past decade as they've contemplated a new college location.
"We've had many conversations about whether we should be housed in a college that has experience with outside accreditation", Debra Gohagan, MSW, PhD, said. "We decided last year that it was the right time, and we'd found the right place".
That place is the College of Allied Health and Nursing, the department's new college home. "There's a natural alignment in goals and priorities and a deep understanding of the accreditation process", Gohagan said. "The change is going to benefit our students, and eventually their clients, in many ways".
"We want alumni to know this change is about taking our program, which they are deservedly proud of, and making it even stronger". - Dr. Debra Gohagen
Tangible Spaces and Virtual Reality
Some of those benefits come courtesy of the department's new physical home, the award-winning Clinical Sciences Building, which opened in 2017.
The building features a dozen interview rooms and classrooms with abundant windows, which fill much of the space with natural light. The classrooms and interview rooms are outfitted with state-of-the-art technology, including virtual reality equipment that will enable students to safely explore dangerous environments they may encounter in practice, such as a meth house.
That's something Michelle Forliti '12, said is invaluable.
"One area I felt I had to experience on the fly after graduation were those real-life situations that occur when working with humans", said Forliti, Minnesota State Mankato's Child Welfare Program Student Support Coordinator.
Though she is "forever grateful" for the field experiences she had as a student, her supervisors were upfront about the fact that she wouldn't be able to "see" every situation she would encounter as a practitioner. Virtual reality will help change that. "I'm excited for students to be able to experience as much as possible while they are still able to seek feedback from their peers and teachers".
A Solid Foundation and Expanded Partnerships
Another benefit of the move is increased opportunities for social work students to build relationships with students in health care programs.
According to Gohagan, the College of Allied Health and Nursing has a strong culture of collaboration among departments and programs. Getting practice working outside the social work silo will help prepare students for the teamwork that is a hallmark of the profession.
"The biggest benefit of this change for our students will be the ability to collaborate directly with other departments in the health care field", said Laura L. Benesch '06, '09, Director of BSSW Field Education. "Students are going to have opportunities to work within multidisciplinary teams focused on improving the overall wellbeing of individuals, families and communities".
The move also reflects the Department of Social Work's commitment to best practices in the field. "We were among the first group of undergraduate programs to receive accreditation in 1974", Bill Anderson, who chaired the department from 1987-1993 and 2001-2010, said "When social work licensure passed in 1989, Minnesota State Mankato became a major provider of license-eligible candidates".
A decade later, Anderson and his colleagues began developing a graduate program, enrolling the first master's level students in 2007. "We realized the College of Allied Health and Nursing, which is full of applied programs, might be a better fit for our department".
It's a department that remains vital as it looks toward celebrating its golden anniversary in 2024. "We want alumni to know this change is about taking our program, which they are deservedly proud of, and making it even stronger", Gohagan said.