Physical Education faculty host workshop for current and future educators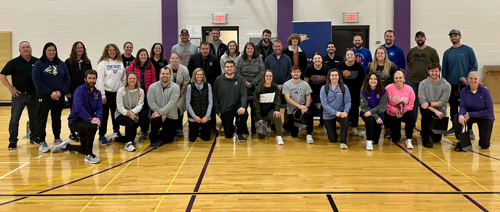 Physical Education faculty at Minnesota State University, Mankato hosted the Minnesota Society of Health and Physical Educators (MNSHAPE) Southern Regional Workshop.
The workshop was attended by 40 current and future Health, Physical Education, and Developmental Adapted Physical Education (DAPE) leaders and focused on networking and professional development.
One session "Adaptations for ALL!" was lead by Dr. Sue Tarr, coordinator of the DAPE program at Minnesota State Mankato.
"Teachers were able to share ideas about making a positive impact on their K-12 students and leave energized and with new ideas," Tarr said. "This was an amazing opportunity for our current PE and DAPE students to make professional connections, too."
Tarr said this was the first time Minnesota State Mankato hosted this workshop but noted it's a natural fit for the University, which has a range of undergraduate and graduate level programs that are helping meet the growing demand for health, physical education and DAPE teachers including:
"We are so thrilled that we are able to support those currently working in health and physical education through events like this workshop, and to offer programs that allow them to take their career to the next level on a timeline that works for them as well," Tarr said.