Opening eyes—and ears—to allied health careers
Audiology undergraduates share their passion and knowledge with high school students who are exploring allied health related educational options and career paths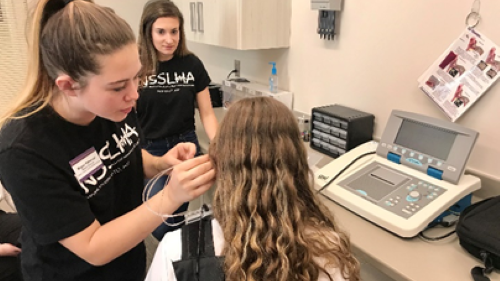 To help high school students learn about health care careers they may be unfamiliar with, the College of Allied Health and Nursing participated in a program that allowed the students to explore a wide range of health care opportunities.
The Health Care Career Exploration Program, sponsored by Mankato Area Public Schools and held in early 2020, provided high school students real-world experiences through clinic rotations, shadowing, observations and networking in a variety of settings including Minnesota State University, Mankato.
One of the programs that participated was Communication Sciences and Disorders. Megan Mahowald, a professor in Speech, Hearing and Rehabilitation Services, said most high school students tend to first think of doctors and nurses when they think about a health-care careers—not necessarily audiologists.
"We get a lot of students interested in nursing, but often, when they see other allied health professions it's exciting for them," Mahowald said. "We had one high school student who, when looking in an ear, said she could do this all the time. Who knows what that one experience sparked for that student?"
Mahowald said Minnesota State Mankato students helped facilitate and share their own experience with high school students. That interaction, she says, makes the programs more relatable for high schoolers and gives college students additional real-world leadership skills.
Zoya Parsi, who graduated in May 2020 with a BS in Communication Sciences and Disorders, was one of the students who volunteered to work with the high schoolers.
"I probably had as much as fun as they did," Parsi said. "It was so cool to really explain audiology to others. It's an important profession that changes lives."
Parsi guesses most of the students she met weren't familiar with audiology before they came in but said that was part of her goal—to raise awareness.
Besides, Parsi says it wasn't that long ago that she was in high school facing the "what are you going to do next?" question. Like many students, Parsi said she came to Minnesota State Mankato with one career in mind but switched to audiology because she found it more interesting.
Mahowald said that exploration is part of the journey—for high school students as well as those in college.
"I encourage students to be open to new experiences and to volunteer with older adults, kids and people with disabilities," Mahowald said. "It may not be a particular profession that inspires you, but it could be working with a certain population. You may not know until you're immersed in it."

ALL allied health programs
Explore health and helping learning communities for first year students