Inaugural "RPLS Day" to be April 8
Event to feature networking, professional development and awards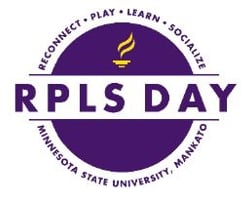 The Minnesota State University, Mankato Department of Recreation, Parks, and Leisure Services (RPLS) will present the Inaugural RPLS Day on Friday, April 8, 2022, in the Centennial Student Union. RPLS Day will feature networking and professional development sessions as well as the RPLS Awards Ceremony.
The RPLS Department will celebrate its 54th year by recognizing the significant contributions of faculty, alumni, and professional partners.
Among the highlights of the day will be the RPLS Awards. Included will be the induction of the Inaugural Class of the RPLS Hall of Fame. The Class of 2022 will include:
Dr. Don Buchanan
Dr. Joanne Decker
Todd Hoffman
James T. Jack
Dr. Joy Joyner
Molly Madden
Dolf Moon
Dr. Ron Nickerson
Dr. Jim Petersen
Keith Young
"The RPLS program has a storied history of community connectivity. This event is an opportunity for our current students to more fully appreciate the contributions of those than came before them and know that they are the most recent in a long line of proud alumni and partners," said Associate Professor Jonathan Hicks. "We are fortunate to stand on the shoulders of recreation industry giants, and I am beyond excited to have so many legends gathered in one room."
The mission of the Department of Recreation, Parks and Leisure Services at Minnesota State University, Mankato is to develop students who value leisure for all and excel as leaders in the RPLS profession.
RPLS is the only nationally accredited program of its kind in Minnesota. During its 54 years of existence, it has fostered creativity and inclusion while placing graduates in careers in all 50 states and numerous countries.