Equity Engagement Space opens
To serve as a place for people of color, LGBTQIA+, and historically excluded groups and co-conspirators, the College of Allied Health and Nursing has opened the Equity Engagement Space.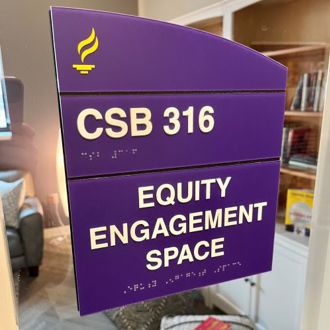 Dr. R. Danielle Scott, an assistant professor in Communication Sciences and Disorders and faculty mentor for the Diversity and Inclusion Fellows program, helped launch and create the Space.
"This is really about embracing our shared responsibility and collaboration towards equity across disciplines," Scott said. "This Space gives permission to engage in brave conversations around institutional inequity and oppression."
A Healing Vibe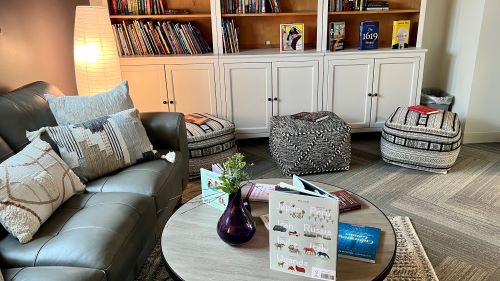 Located on the third floor of the Clinical Sciences Building on the campus of Minnesota State Mankato, the Equity Engagement Space is tucked away just enough that you know you are going to an intentional place – but not so far away that you're removed from the setting of allied health and nursing professions.
"Clinical spaces are not always warm and inviting," Scott said. "This is an entirely different vibe from the sites many of our students and faculty are immersed in, giving us an important place for different, sometimes difficult conversations."
Ready for new ideas and continuous learning
The Space includes a range of seating options – those who are stopping by for moment might choose a wooden counter-height stool, while those gathering for a discussion or group project might pull up one of the small fabric ottomans and form a circle around the coffee table.
The Equity Engagement Space was intentionally designed to create a place where unapologetic, healing, and transformative conversations can take place.
A couch with throw pillows, a tall table for computer work, soft lighting, and an entire wall of shelves with books focused on social justice complete the space.
There are, of course, a few empty shelves, ready to embrace new ideas. During the opening event for the Space, a Family Consumer Science professor suggested cookbooks be added to the collection. "That's just the kind of interdisciplinary thinking we are hoping for," Scott said. "We absolutely should have cookbooks."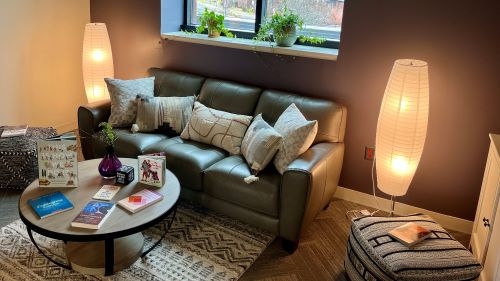 And that's the goal – to evolve as a place where all faculty, students and disciplines are encouraged to participate in a way that is welcoming.
"The Equity Engagement Space is just one of the ways we are working to create a sense of inclusion and belonging for all faculty and staff," Scott said. "We want to encourage continued learning in our ongoing commitment to diversity, equity, and inclusion."
Article about the Equity Engagement Space in the student newspaper, The Reporter
Thank you to Kristine Retherford, former Dean of the College of Allied Health and Nursing, for her support in making the Equity Engagement Space a reality for our students and faculty.