Dr. Jehad Adwan named Nurse Educator of the Year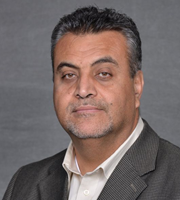 Dr. Jehad Adwan, a professor in the School of Nursing at Minnesota State University, Mankato was named Nurse Educator of the Year by the Minnesota Nurses Association (MNA).
The Award honors a nurse involved in nursing education who has demonstrated expertise in the teaching of nursing and is recognized by their peers as a role model of sustained, consistent, high quality teaching.
Typically, the award is presented at the annual MNA convention, but due to COVID-19, the award was presented to Dr. Adwan—as a surprise—at his home by the MNA director and colleagues from Minnesota State Mankato.
Dr. Adwan thought he was meeting with a colleague and was anticipating a socially distanced conversation about curriculum changes. Instead, the meeting was an awards presentation on his porch.
"All of the sudden there was an entourage in front of my house," Dr. Adwan said. "Had I known this was going to happen, I would have shaved. It was just by chance I had a Minnesota State Mankato t-shirt on. I didn't have enough hands to carry all the nice things they brought for me. It was a nice kind of ambush."
As a professor of quality and safety, pediatric clinicals, and pre-licensure research, one of the things Dr. Adwan is committed to is instilling the "the spirit of inquiry" with his students.
"It's imperative as educators we teach our students to be true to the science and follow the evidence," Dr. Adwan said. "Whether working at the bedside or crafting policies, we need to reduce our own biases, not politicize science, and try to be the objective observer."
Dr. Adwan has been with the University since 2017 and has interests in health informatics, nurse's grief, and family coping with children's chronic illness. He also has had an interest in online teaching and learning, long before the pandemic increased the need for online education.
"This award is very special to me and it really recognizes the whole team," Dr. Adwan said. "I'm proud of Minnesota State Mankato. This is recognition for all educators out there, especially during this time."