Eyes on research: Dental students present at national conference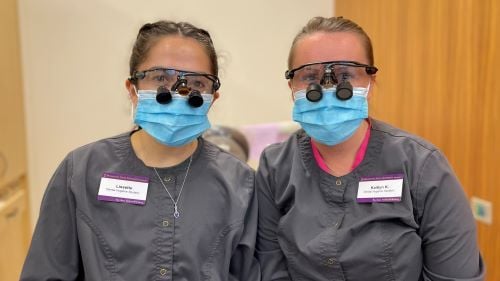 Dental hygiene majors Lissette Garza and Kaitlyn Knutson first met as Honors students at Minnesota State University, Mankato and quickly realized they had "weirdly similar paths".
Both are from smaller communities in Minnesota, both knew they wanted to be dental hygienists growing up, both knew they wanted the expanded career opportunities of a bachelor's degree in dental hygiene, and both knew Minnesota State Mankato was the right fit for them.
And it turns out, both were interested in those magnifying glasses—called magnification loupes—which have become standard for dental hygienists to wear. They wondered, if aside from helping hygienists provide more precise care, there were any long-term consequences.
So, they decided to do some research to find out.
Along with dental hygiene professor Alyssa Delgado, they created a survey about loupes and shared it on social media groups specific to dental hygiene. Overnight, they received 300 responses.
"I was shocked," Garza said. "The community of hygienists is very tight knit, and people commented how nice it was to see people from all over come together. It makes me excited for the future, when in my career I can help other students do research." Garza said.
Ultimately, they received 360 responses from hygienists across the country and concluded additional research is needed, especially related to migraines.
Their research poster, "The Effect of Magnification Loupes on Eye Strain Among Dental Hygienists," was selected to be presented at the American Dental Hygienists' Association (ADHA) 2020 Annual Conference in New Orleans.
Although the event—as with most in 2020—was virtual, both Garza and Knutson said the experience of doing and presenting research will only benefit them in the future. "The dental field is always expanding," Knutson said. "Research is going to be big part of our lives."
The two seniors are grateful for the research opportunity, their entire experience at Minnesota state Mankato, and are looking forward to graduating.
"I feel like I just started at Minnesota State Mankato yesterday," Knutson said. "It's amazing to see how I've evolved as a student and how far how far I've come. I can't wait to start in a clinical practice."
Same goes for Garza. "I definitely want to get into clinic practice. I also want to get my master's degree and become a professor of dental hygiene. That stems from the amazing professors and my entire experience here."