Advanced Dental Therapy accepting applications
Program to begin in May 2022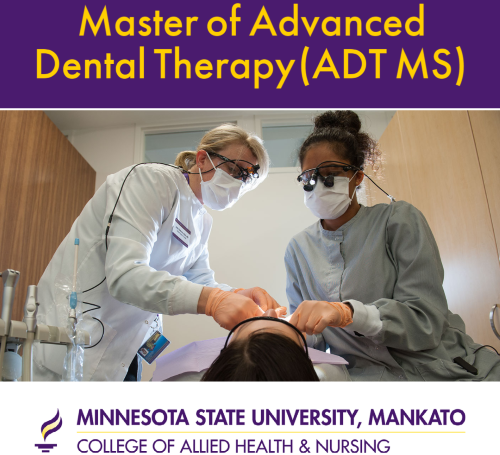 The Department of Dental Education at Minnesota State University, Mankato is accepting applications for the Master of Science in Advanced Dental Therapy (ADT MS) program.
The program, which is just the fourth of its type in the country, leads to dental therapy licensure and credentialing as an advanced dental therapist in the state of Minnesota.
An Advanced Dental Therapist (ADT) is a is a licensed, mid-level dental practitioner who works as a critical part of the dental team. ADTs are trained in theoretic and applied skills to provide treatments such as fillings and removal of baby teeth, under the supervision of a dentist and play an important role in preventing emergency room visits for dental-related problems.
If you have an interest in working to increase the oral health of undeserved populations by providing limited restorative dental care in addition to dental hygiene services, the MS in Advanced Dental Therapy might be right fit.
Priority application deadline is March 13, 2022 but applications will continue to be reviewed until the cohort is filled.
See what current students say about the program and get program details. If you have any questions, please contact the ADT director.
Program details, enrollment requirements and application information