Applications open for new MS in Advanced Dental Therapy
First cohort begins Fall 2021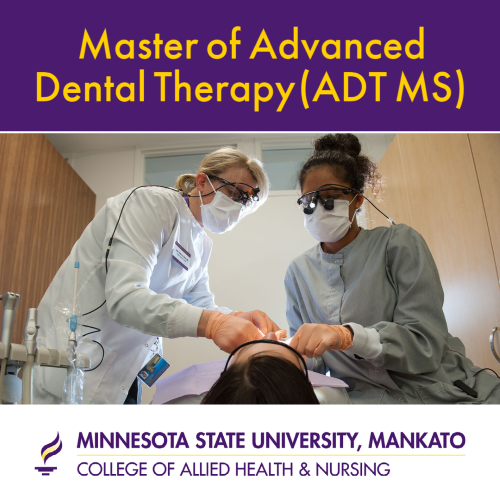 The Department of Dental Education at Minnesota State University, Mankato will welcome its first cohort of the new Master of Science in Advanced Dental Therapy (ADT MS) this fall.
An Advanced Dental Therapist (ADT) is a is a licensed, mid-level dental practitioner who works as a critical part of the dental team. ADTs are trained in theoretic and applied skills to provide treatments such as fillings and removal of baby teeth, under the supervision of a dentist. ADTs play an important role in preventing emergency room visits for dental-related problems.
Dr. Jessica Drapcho said those with an ADT MS degree often work in areas where there is a shortage of dentists.
"Because ADTs provide an advanced level of care, dentists can focus on complex care, freeing up ADTs to provide mid-level oral health services," Dr. Drapcho said. "This is critical in communities where the need for dental care is highest—in rural, low-income, underserved, and underinsured settings. In these areas, there is high demand for ADTs."
Program details, enrollment requirements and application information