Celebrating The First Fifty Years — 1953–2003
By Mary Huntley, Edna Thayer, and Linda Beer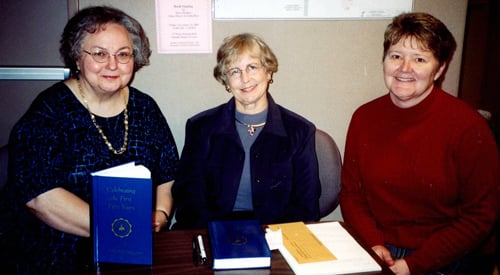 Celebrating The First Fifty Years: An Interpretive Essay, by Mary Huntley, Edna Thayer, and Linda Beer tells the story of the School of Nursing at Minnesota State University, Mankato.
This beautiful timeless keepsake book is available at the School of Nursing, Minnesota State University, Mankato and the Campus Barnes & Noble Bookstore. The hard cover book lists all the nursing graduates from the School of Nursing from the School's beginnings in 1953 until June 2003. The history of the School of Nursing was thoroughly researched using available School of Nursing files and documents, as well as the archived collection at the MSU Library.
The book is comprised of 10 chapters and over 90 photos describing student life and activities, faculty life, curriculum development, administrative leaders and assistants, learning spaces and places, and collaborative partners. An extensive appendix lists all graduates of the School of Nursing and the faculty names, who could be determined, teaching during those first 50 years. Graduate students are listed with the title of their respective thesis or culminating project. Descriptions of scholarships and awards along with recipients' names are included.
Authors, Mary and Edna, realized one day about 20 years ago that they were the only School of Nursing faculty at that time who taught nursing courses in the School of Nursing and who also held acting or interim administrative positions in the school of nursing and multiple times. Having served the School of Nursing from 1965 to 2001, they decided their collective years gave them an opportunity to record the history of the School of Nursing from a variety of perspectives. Mary was a nursing student from 1958–1962. She and her nursing student friend, Sandra Kanne Tonseth wrote the first ten–year history of the nursing program. Then a graduate student, Tambra Fettig Loose, expanded on the history through a quilt–making and care–giver stress reduction project. The huge quilt still hangs in the School of Nursing, Wissink Hall, room 358. As an administrative assistant in the School of Nursing for many years, Linda Beer joined Edna and Mary to serve as consultants to Tambra's project. The three of them had lived through many curriculum changes, accreditation visits, moves of the School within the university campus, student uniform changes, searches for qualified faculty and administrators, expansions of the baccalaureate program to a variety of clinical sites, and developments of new options to meet students' needs for baccalaureate and graduate education. They formed the writing team for the history of the School of Nursing from its beginning to 2003 and in time to celebrate the School's 50th or Jubilee Anniversary.
The book can be purchased for $26 plus postage. Better yet, those who donate $100 to the Nursing Jubilee Scholarship receive a complementary copy of the book. Contact the School of Nursing to make arrangements to receive your copy: 507-389-6022.
See the Table of Contents for a comprehensive view of the book.