General Education Advising Tips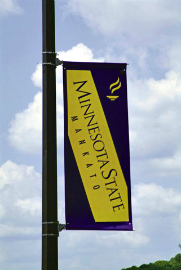 Detailed information on general education advising is found in the catalog.
There are a few facts about general education that often result in questions, and these are covered below.
While there are 13 goal areas in General Education, some are optional or can be covered through means other than taking additional courses. These include Goal 2 (covered by completing remainder of General Education requirements); Goals 12 and 13 (optional).
In Goals requiring two courses (3, 5, and 6), the two courses must come from different disciplines.
A single course may count for up to two goal areas, plus writing intensive (if applicable), but only counts once toward the 44 credit requirement.
A general education course may also count as a pre-requisite course for a given major, so careful planning can help students be more efficient in their course selection.
44 unduplicated credits of general education must be completed to graduate. The Bachelor of Nursing program and Heath & Physical Education have an exception to the 44 credit general education credit minimum. Their minimum is 40 credits. If a student in these programs switch majors, however, s/he will be subject to the 44 credit requirement.
Student must meet the general education requirement for the catalog year they are enrolled under, unless they switch catalog years. Student may not "mix and match" bulletins (i.e. use one for general education, another for their major or minor, etc.)
Graduation Requirements
The Diverse Cultures (Purple and Gold) and Writing Intensive are requirements for graduation (not general education).
It is also important to be aware of the minimum university requirements for graduation in terms of:
Number of upper division (300-400 level) credits: 40 semester credits
Number of credits taken in residence (at Minnesota State Mankato): 30 semester credits
120 credit minimum needed to graduate along with completing all general education, major and minor (if applicable) requirements.
Specific programs may also have separate residency requirements for credits taken at the University.