About Our Online Dental Hygiene (BS) Program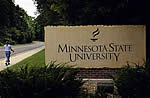 Our 100% online program is for current dental hygienists who have completed training in dental hygiene and want a Bachelor of Science in Dental Hygiene.
Why do I need a Bachelor's Degree? You will increase knowledge and skills to apply to clinical hygiene practice. For many jobs other than clinican dental hygiene, a bachelor's degree is needed. Click here for more details on the various roles of a dental hygienist.
Our program is flexible - you can choose your track.
Standard Track – 2 dental hygiene courses a semester
Accelerated Track – 4 dental hygiene courses a semester
Dual Track – if you are currently enrolled in a 2-year degree program and want to start to earn your BS degree
Your advisor will develop an individual plan of study to complete the Bachelor of Science degree. This will include:
Dental Hygiene Program Courses

11 courses for 32 credits

General Education Courses:

The average student with an accepted AS or AAS degree in dental hygiene needs 2-4 general education courses to complete the degree
Students who have an accepted AA degree will not need any additional general education courses.